Contemporary comforts to enhance your stay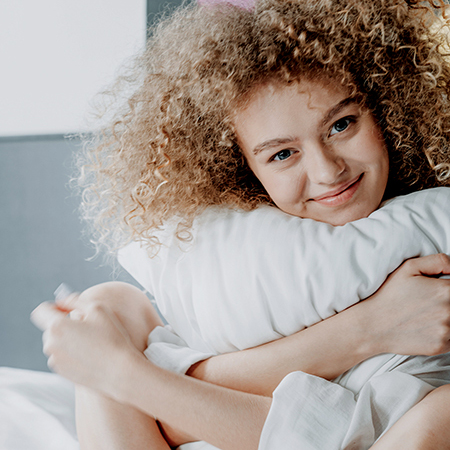 BUDGET HOTELS IN DUBAI
At La Quinta by Wyndham Dubai jumeirah the hotels in Dubai we have a wide selection of stylish boutique rooms and suites to choose from—each designed with modern contemporary styling.
Hotels in Dubai
Our 100-room array includes Executive Suites, Deluxe Suites, Deluxe Suites with kitchen, Junior Suites, Family Rooms, Deluxe Rooms and Economy rooms. We strive to prioritise your convenience and comfort throughout the hotel stay. All our accomodations are appointed with features such as Smart Mobile Key entry, a 49" LCD TV, desks for work tasks and studying purposes, minibars with coffee/tea maker facilities plus comfy lounges. 
                     Guests can also opt for balcony views while they soak up Burj Khalifa's brilliance. Although our rates are reasonable, the level of quality remains uncompromised in delivering maximum satisfaction for the ultimate experience in budget hotels in Dubai.
Wander the souks, see the Burj Khalifa and hit the beach
Discover Dubai's world-famous souks, experience the stunning views from the Burj Khalifa, and relax on the city's beautiful beaches. Shop for souvenirs in the Dubai Gold and Spice Souks, learn about the city's rich history at the Dubai Museum or Al Fahidi Fort, and catch the nightly fountain show in front of the Burj Khalifa. Soak up the sun at La Mer Beach, visit the man-made island of Palm Jumeirah, or take a camel ride on a desert safari. Our concierge and 24/7 front desk staff will be happy to share their favorite recommendations with you.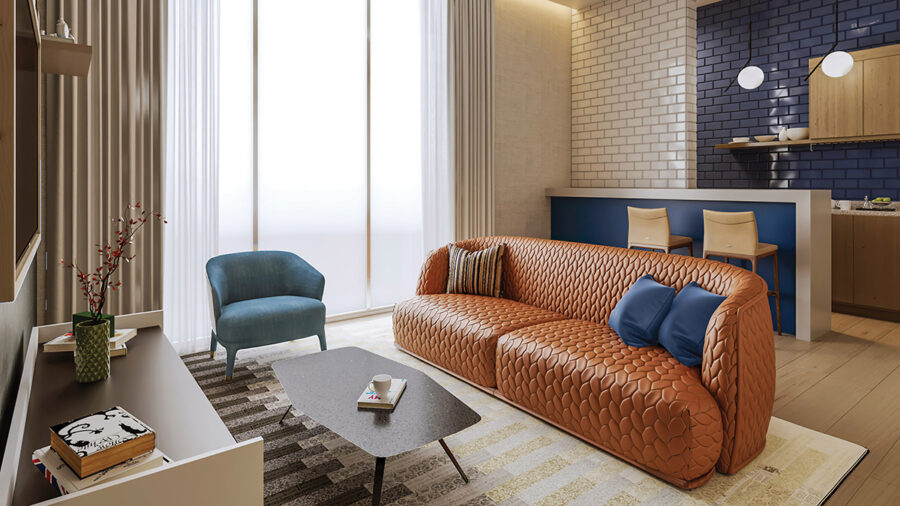 The Executive Suite is a luxurious one bedroom suite with a King size bed, 65 sq. meters, and a large balcony with a fabulous view of the Burj Khalifa. It also features High Speed Wi-Fi and a Jaccuzzi.
Our Deluxe suites are tastefully furnished in a contemporary style and feature 60 sq. meters of living space. They include a separate living room and bedroom with a king size bed, as well as a large balcony.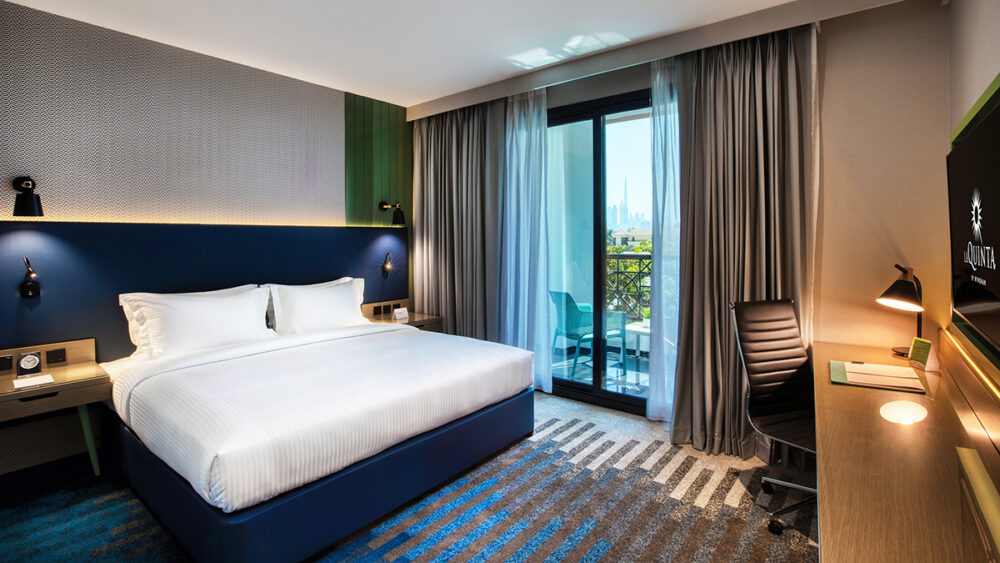 DELUXE SUITE WITH KITCHEN
The 4-star Hotels in Dubai offers large, American-style living spaces with fully equipped kitchens, separate living rooms, and bedrooms with king-size beds. It's the perfect choice for families on vacation.
The Junior Suite offers 45 sq. meters of stylish living space, a spacious bedroom with a king size bed, and a private lounge area. It also has 2 TV's and high speed Wi-Fi.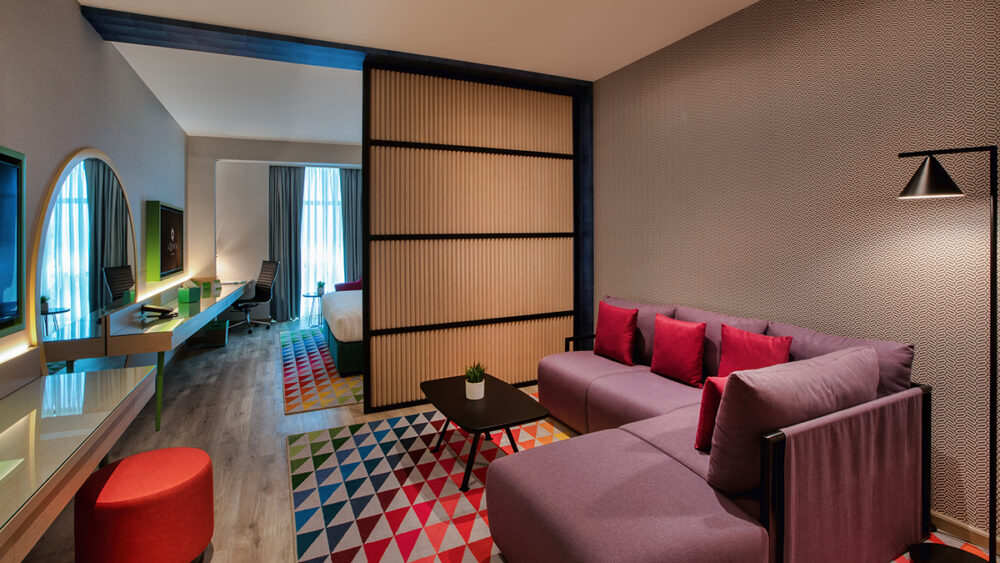 Our the 30 sq. meter family room is a great choice for families, with 3 large queen size beds and high-speed Wi-Fi.
The Deluxe Room is 30 square meters and offers a choice of king size or twin beds, high speed Wi-Fi, minibar, tea & coffee facilities, and a safe. Connecting rooms with king and twin beds are available for families.
This hotel room offers stunning views of the city, a king size bed, minibar, tea & coffee facilities, small bathroom and high speed Wi- Fi. With its excellent location and comfortable amenities, it is perfect for business or leisure travelers.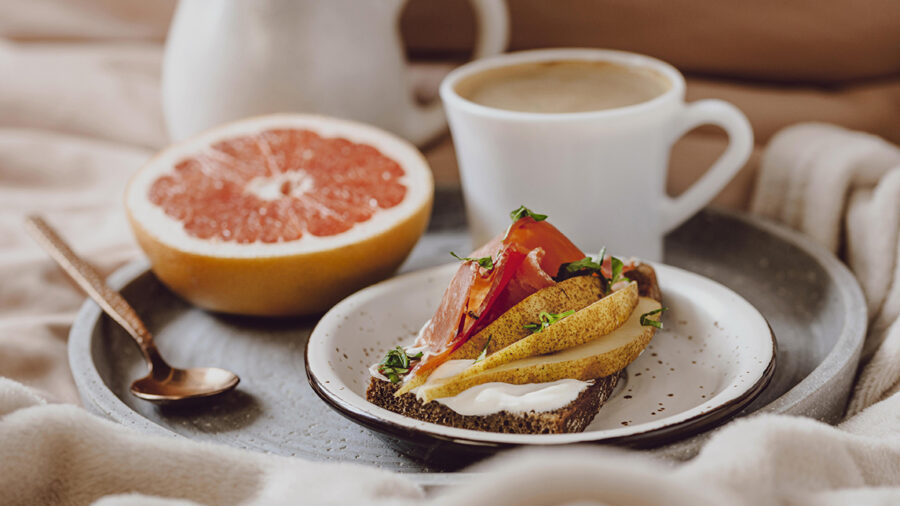 24 Hour Room Service In-room dining at La Quinta by Wyndham Restaurant is available 24/7, with an extensive international menu to choose from. Whether you're looking for breakfast options, healthy snacks or gourmet meals, we have something for everyone. Our kitchens are also equipped to handle any special dietary requirements you may have.
Complimentary Wi-Fi
24 hour room service
Mini bar
49" flat-screen TVs
Satellite channels
Tea/Coffee facilities
Writing desk
Safe
Phone in room & bathroom
Complimentary toiletries/hair dryer
Laundry & dry cleaning service
Baby sitting